OBJECTIVE: Neuropathic pain is regulated by several metabolites of the kynurenine pathway (KYNA-kynurenic acid, and QA-quinolinic acid). Diclofenac exerts analgesic and anti-hyperalgesic effects and also alters KYNA levels, indicating a potential for therapy. We aimed to assess the nociceptive effects of different doses of diclofenac treatment in a rat model of neuropathic pain and to determine potential relationships with KYNA and QA levels (Graphical Abstract).
MATERIALS AND METHODS: Twenty-eight Sprague-Dawley rats were divided into four groups: 40 mg/kg/day diclofenac (high-dose), 20 mg/kg/day diclofenac (normal-dose), non-treatment, and sham. Except for the sham group, the others underwent partial sciatic nerve ligation (left). Baseline (day 0) and post-treatment (day 3) KYNA and QA levels were measured. Allodynia and pain detection were assessed with the von Frey and hot plate tests.
RESULTS: Baseline findings were similar in all groups. Compared to baseline, the non-treatment group had significantly worse allodynia on day 3. Baseline and post-treatment von Frey results (left) remained similar in the normal-dose diclofenac group (p=0.336); however, this benefit was not observed in the high-dose group. Relative to baseline, normal-dose diclofenac recipients had significantly higher KYNA concentration (p=0.046) and KYNA-to-QA ratio (p=0.028) on day 3.
CONCLUSIONS: Our results show that 3-day therapy with 20 mg/kg/day diclofenac can improve nociceptive findings in neuropathic pain, and that this effect may be associated with increased KYNA or KYNA-to-QA ratio. The lack of dose-dependent effects may be associated with potential adverse influences of exceedingly high diclofenac dosage.
Graphical Abstract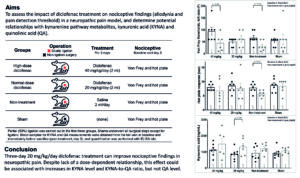 Free PDF Download
This work is licensed under a
Creative Commons Attribution-NonCommercial-NoDerivatives 4.0 International License
To cite this article
S. Debbag, A. Yalcinkaya, F. Saricaoglu
Nociceptive improvements and kynurenine pathway alterations with diclofenac treatment in a rat model of neuropathic pain created by partial sciatic nerve ligation
Eur Rev Med Pharmacol Sci
Year: 2023
Vol. 27 - N. 9
Pages: 4239-4247
DOI: 10.26355/eurrev_202305_32334